1.7: Cost Benefit Analysis
3 years ago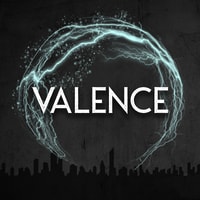 Season 1, Episode 7: "Cost Benefit Analysis"
Who benefits when Halo, Inc. throws a benefit? The rich. Well, and those who crash the benefit to steal hors d'oeuvres. And information. Information doesn't benefit. It's stolen.
VALENCE is a serialized fiction podcast meant for adult listeners. You can find more information, including our full cast list and transcripts, at VALENCEpod.com. You can support us on Patreon and get access to inspo images, bonus audio, and more.
Content warnings:
Depictions of alcohol and food throughout
Depictions of a panic attack from 9:18 - 10:30
Depictions of violence from 28:00 - the end of the episode
Credits:
Performances by, in order of appearance:
Special thanks to:
Danielle Welch
Evelyn Regan
Jeff Van Dreason
Leslie Joyce
Phoebe Seiders
Ryan Boelter
Support VALENCE by contributing to their tip jar: https://tips.pinecast.com/jar/valence