2.3: Spring Cleaning
2 years ago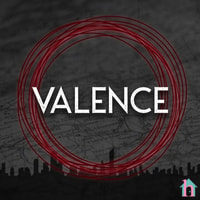 Season 2, Episode 3: "Spring Cleaning"
Out with the old and in with the new. Liam changes things and makes a new friend, but is it enough to distract him from the rest of his life? (No. Obviously.)
VALENCE is a serialized fiction podcast meant for adult listeners. You can find more information, including our full cast list and transcripts, at VALENCEpod.com. You can support us on Patreon and get access to inspo images, bonus audio, and more. Don't miss out on... The Soap Cut.
VALENCE is brought to you by Changing Hands Bookstore. You can use our link at bit.ly/hhchanginghands to support this podcast and indie bookstores. This episode, Katie recommends the Mirror Visitor Quartet, starting with "A Winter's Promise," by Christelle Dabos.
Content warnings:
Depictions of familial trauma throughout
Discussions of oppression and imprisonment starting at 28:30
Credits:
Performances by, in order of appearance:
Josh Rubino as Liam Alden and Liam's Inner Voice,
Caleb Del Rio as Flynn Velasco,
Julie Cleburn as the hairdresser,
Vyn Vox as the tattoo artist,
Bennett Medi as the florist,
Mads Upton as the shelter employee,
Sable as Soap,
Jordan Cobb as Sarah Harris,
Ishani Kanetkar as Mahira Varma,
Miracle Fonmanu as Zoe Kafoa,
Katie Chin as Grace Chen,
Alex Welch as Noel Alden,
and Maddison Dabbs-Petty as Elisha Dawes.
(and yes, I call this episode "spreaning" in my head.)
Support VALENCE by contributing to their tip jar: https://tips.pinecast.com/jar/valence